Are you the kind that loves extreme adventure? If yes, then skydiving is probably your go-to sporting activity to experience extreme adventure.
Many people create a bucket list of items that they want to achieve or do once in their life. I too have my bucket list and skydiving is one of the items that I always wanted to do. Fortunately, I grabbed the chance to freefall from the sky last year. Frankly speaking, I had a mind-boggling experience.
A huge thanks to my instructor. He trained me on certain body movements that I need to take care of while falling and guided me through all the ins and outs of skydiving. A highly experienced trainer can increase your desire and the joy you experience from any adventurous activity.
Is skydiving on your bucket list as well? Do you want an enthralling experience of free-falling?
Then, this blog is worth reading for you! You will get to know everything about skydiving through my experience.
So, let's dive in!
Tandem Skydive – Your First Step Toward Learning How To skydive
For first-timers, tandem skydiving is the best option to start with. Though it is not compulsory to do tandem skydives first before going for the solo skydiving, however, it is highly recommended to go for tandem skydives as you can get a taste of it.
Being a tandem skydiver, you will jump accompanying an experienced instructor. The instructor will be fully responsible for operating all the equipment. Because you don't need to operate anything during the jump, you are totally free to enjoy and experience the free fall from whatever height you end up jumping off at. You will thus worry a lot less on your first skydive as you would have an instructor skydiving with you.
However, that doesn't mean that you will not be provided with enough guidance. You will still receive the proper training in free-falling including proper body positions and landing tricks and techniques.
What you will get during tandem skydiving?
1. An instructional learning class on free falling.
2. A professional instructor.
3. Freefall from 13,500 feet of approximately 1 minute.
4. Lastly, you will receive your most-awaited first jump certificate.
5. I strongly recommended that you first go for a Tandem skydive so as to get comfortable with the actual skydiving experience!
Accelerated Free Fall (AFF) – One Step Further
Moving in the right order, a Tandem skydive is then followed by Accelerated Free Fall (AFF). Nonetheless, some people sometimes choose to skip the tandem skydive step. While fulfilling their wishes on the bucket list.
However, Accelerated Free Fall will give you a far more professional experience. AFF consists of seven skydives, each with a new skill to learn. Learning numerous skydiving skills will make you more professional and proficient in free falling. You will not require any instructor anymore to accompany you while free falling.
By completing AFF training, you become capable of free-falling from an airplane without any help. You can even attain an A-license in skydiving if you fulfill the criteria of 25 jumps and can free fall with others from a certain height.
Henceforth, you can skydive not only for adventurous purposes but you can also make it a profession by attaining A-license.
Remember one thing, entering into the AFF program would require a membership with the United States Parachute Association (USPA).
Cost to Learn how to Skydive
If you want to learn to skydive, you will be charged some amount depending on the type of jump. A tandem free fall will cost you less, but the price will rise as you go for an advanced version of free falling.
On average, your cost to learn skydiving might be anywhere between $3,000 and $3,500. This includes the complete package of AFF.
Let's have a look at the package of AFF, which would vary in terms of pricing.
AFF package might include:
· 1-on-1 Parachute Training Tandems
· Wind Tunnel (optional)
· First Jump Course (4-6 hour classroom)
· AFF Jumps
· Coach Jumps (Learn group free falls with coaches)
· Solo Skydives
· Parachute Packing Class (Learn to pack your parachute)
Be Prepared For Skydiving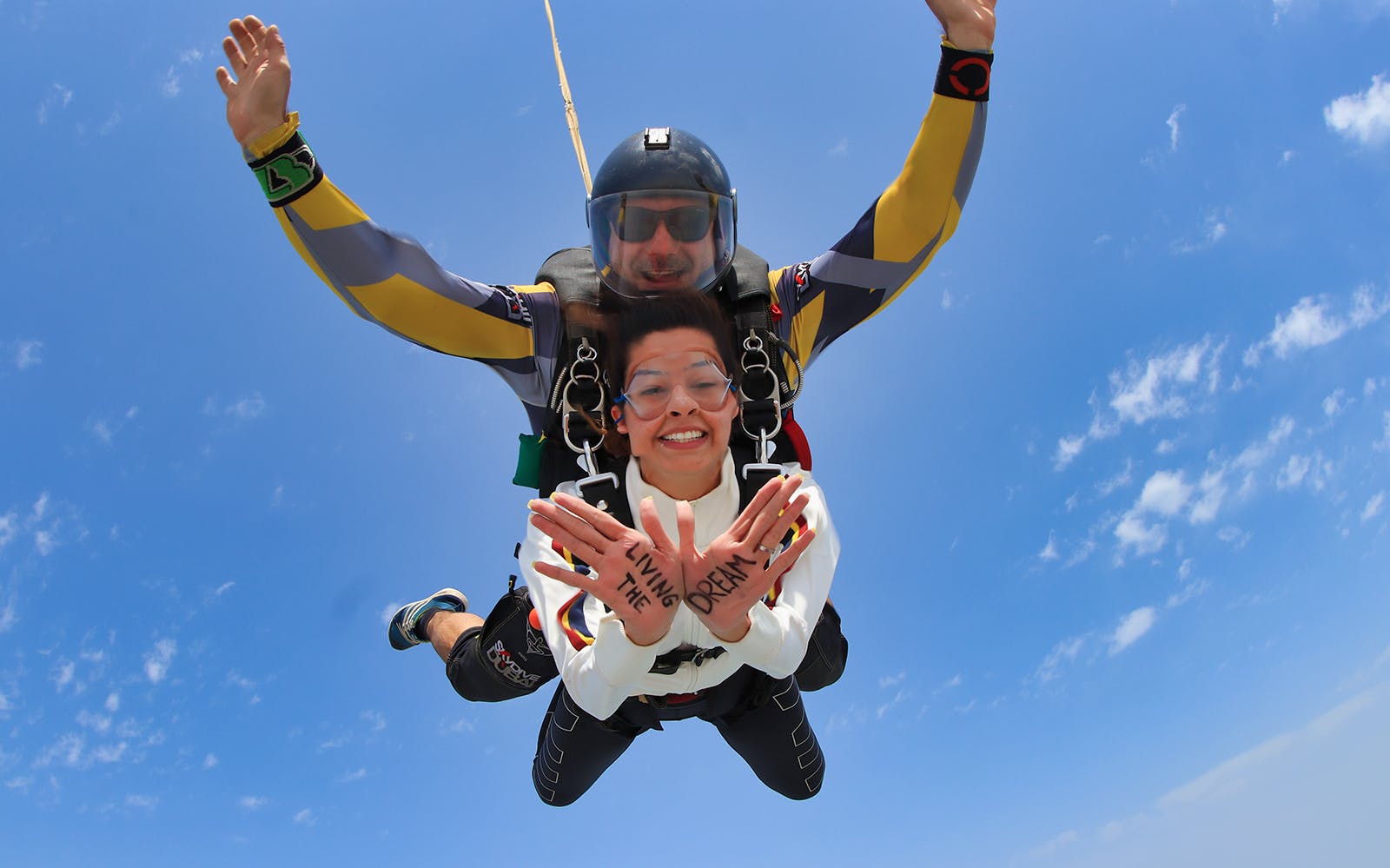 Having a dream to skydive must be done with a proper state of mind. If anyone isn't mentally, physically, or emotionally strong, then he/she won't be able to overcome the challenge and may end up with an unsuccessful free fall. However, a mentally stable person would be able to stay focused and strong during the activity and thus easily complete it.
If skydiving is on your bucket list, then start preparing yourself mentally and physically to take up the challenge as you may come across many hurdles like different kinds of malfunction, wrong body positions, flight patterns, and landing techniques. All of these could appear cumbersome if you are not prepared and ready for the challenge.
Just imagine the open door of the plane and the loud engine noise along with a gust of winds. Does any of these give you goosebumps just thinking about free-falling in such conditions?
If your answer is no, then you are prepared for your first skydive. However if not, then you still need to get prepared.
Stay strong, keep your mind focused, and be aware of your surroundings. Practice meditation since it can bring you into a clear state of mind and your brain will work more actively.
And yes, you can surely succeed skydiving from any height.
Tips for Beginner Skydivers
Communicate with experienced skydivers
While talking to them, you will discover the best instructors to learn skydiving from and know their level of experience. You may ask for any advice before trying your first jump. Remember that even the best skydivers was once a beginner in the act of free falling.
Ensure you get quality sleep and avoid alcohol
You might be wondering why it is necessary to avoid alcohol and sleep well the night before skydiving! If you get quality sleep the night before, then it will refreshen you up and you would actively take part in this adventurous sporting activity. So, take proper rest and avoid consumption of alcohol.
Don't rush to buy skydiving gear
Well, if you are trying this sport for the first time, then you don't need to worry about gear as everything will be included in the cost of skydiving. Such equipment becomes a necessity only when you get an A-license certificate and are eligible to fly with beginners.
Watch some actual skydiving footage
Just grab your mobile phone or your tablet and search for some real skydiving footage. This will enable you better understand some of the nuances of skydiving and you may even become knowledgeable of the whole experience. With more knowledge, you will have a lot more confidence.
This is the most experienced problem that every skydiver faces and it can not be avoided. As the aircraft door opens while you are about to free fall, you will hear the shear and uncomfortable loud noise of the aircraft engines. There is really no alternative here for you to avoid this, so just get prepared for this and it won't unnerve you.
Do you want to know the environment of skydiving before attempting your first jump? Well, you can experience something similar by visiting a wind tunnel. It will offer you a similar environment to learn to skydive.
Upon becoming a qualified skydiver, keep experimenting with different free-falling techniques like performing mid-air gymnastics. This will make you a pro in skydiving and its techniques.
Throughout your skydiving, you should remain focused on your jump. There is no doubt that while free falling or when you are about to fall, you will experience a horde of all sorts of feelings some negative and some positive. There might be some anxiety, stress, or fear. But, anticipating and coping with these feelings can make you more relaxed to enjoy your skydiving.
Last words
If you love skydiving and want to experience it once in your lifetime, then I hope that all the above-mentioned information and tips will help you in achieving your dream of skydiving. Heck, you may even become a pro in skydiving if you choose to.
Open your wings and fly!